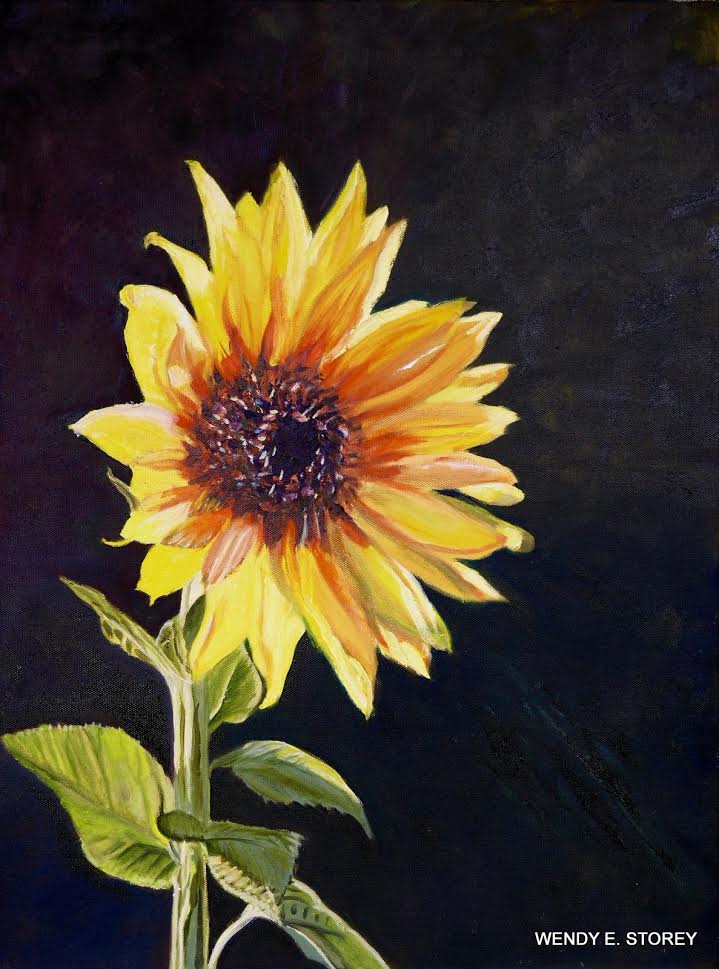 My early retirement from a nursing career at age 50, allowed me to unleash my creativity and step into the art world. I began with a basic drawing course in Midland.
After completing a six week course in watercolours Wendy knew the medium was not for her. A one day oil painting seminar with Jen Lawton, ignited a passion for oils. From that point on, Jen became her mentor, teacher and inspiration.
Oil paint remains my preferred medium. They produce the rich colour I was trying to bring to my work. That day with Jennifer was a two fold awakening. I grew up with a camera in my hand and loved 'getting close' to my subjects. Seeing Jen's vibrant macro paintings got me really excited and inspired my painting journey.
I enjoy taking seminars and small courses from various artists, trying to absorb tips and basics in order to grow and evolve in the direction I wish to go. Painting for me provides daily escape and enrichment.
Presently, I have several paintings showing at Le Maitre D Restaurant in Penetang and also some paintings hanging in the Lady Bug Café in Midland. I, occasionally, have a painting in the varying shows at Quest Gallery, in Midland.
Some of my paintings have found homes in Toronto, Ottawa, Kingston, British Columbia, Michigan, Australia and Scotland. I felt honoured this year when Askennonia Senior Centre, in Midland bought my Poppy painting which they will display annually eachNovember 11.
My passion is to capture a small piece of a story. My paintings portray things like an old pair of shoes, a broken chair, leaping feet or a crinkled candy foil. I delight when someone either can relate immediately to the story within the work or is not sure initially what they are looking at. Sometimes you see the light go on, as they smile in recognition, or witness their delight when you tell them what it is and they grin; tickled to see what I see.
In the past few years I have expanded my painting themes to include landscapes. Inspiration around beautiful Huronia, is minutes from my studio.
The ever elusive challenge to portray effects of light with paint is what drives me. Early influences were Paul Peel and Clarence Gagnon. Local influences are Jen Lawton for macros and Cathy Boyd for her landscapes.
I feel a strong passion to record on canvas, the life-force in nature. My goal is to capture breathtaking vistas as well as glimpses of small details. By focusing on cropped images such as the play of light within the shadows; new perspectives can be explored.
The Artists